Local Business T-Shirt Promotion
In a nutshell, it works like this:
I design your custom t-shirt and list it for sale on Amazon.
You share a private link for your fans to buy the shirt.
You offer special deals only to customers wearing your t-shirt.
You get more business, free publicity and a monthly check!
In more detail
I am a design partner with Amazon's print-on-demand service.
With that partnership, I can offer your business or organization the opportunity to have your t-shirt printed one at a time and also lets you take advantage of an exciting marketing concept that will increase your business, create publicity for your brand, and provide a profit on each shirt sold.
Your business does not have to purchase any shirts, nor does Czebra Studios. The shirts are sold by Amazon via the link you share. Amazon prints on demand, ships the item and handles all customer service.
Your shirt will be available to buy on Amazon (free shipping with Prime) via a private link and a QR code. You share the promotion and the link via email, social media, ads, flyers, postcards, etc.
The promotion is entirely up to you and the possibilities are endless. You know your customers best and what special offer will bring them, wearing your branded shirt, into your business during typically slow times.
For example, a restaurant might offer a free appetizer with entree purchase; a hair salon could offer clients a bonus deep conditioning treatment; a dog groomer offers a percentage off a particular service.
Your business increases and your customers become walking billboards for your brand!
As a bonus, the small setup fee can be recouped with profit from your shirt sales. Your business and Czebra Studios share the sales profits. Czebra manages the account, sends you a monthly report of sales (with screenshots to verify the numbers) and a monthly profit check. The one-time setup fee begins at $200 with lower options available to non-profit groups.
Great for Staff T-Shirts too.
This model is also an efficient way to supply your staff with t-shirts. We will create a separate wholesale-priced listing for employee shirts. You don't have to stock a bunch of different sizes or have a pile of unused inventory sitting in a closet. One national company saved $300,000 in one year by switching to this model for their staff shirts.
More Business
Free Publicity
Royalty on Sales
Low One-Time Setup Fee
No Minimum
No Inventory
No Shipping
No Catch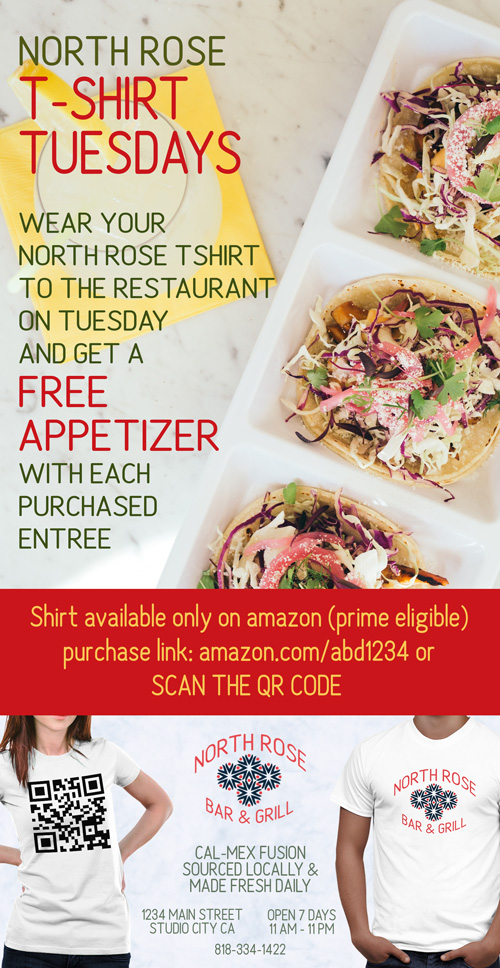 restaurant promotion EXAMPLE
Your create a special offer for a day or just a few hours during which your business is slower than usual.
Ready to get the ball rolling?